---
ASSOCIATION OF HOLISTIC, SPIRITUAL & ASTROLOGICAL SCIENCES (REGD.)
AHSAS has its roots in the divine concept of gratitude, honor, humbleness and love for all in the Universe, the basics that descend from Godly Realm. There is an essence of oneness in the Universe. Various systems of Astrology and occult sciences have evolved from this oneness than from differentiation. So our Astrology, Palmistry, Numerology, Vastu, Tarot, Lal Kitab, Remedial Measures, Spiritual Healing etc. courses have been designed by hybridization of psychological and practically useful aspects of various systems (Vedic & Western) in vogue, leaving aside the superfluous and impractical aspects of each system, as observed in application.
Objectives of AHSAS
AHSAS aims to impart scientific education in the disciplines mentioned above by observing above said fundamental tenets of Godly Realm. We are here on this planet Earth, to refine and evolve ourselves (our soul) than to devolve ourselves as perpetrators by addicting to mean traits like hate, ego, non- humbleness etc. Astrology, Palmistry, Numerology etc. are not all about predicting the good and bad times of a person's life and making prophecies, as is done in traditional prediction oriented systems, just for the amazement of the client and selfish aggrandizement of the predictor. The AHSAS is a registered body under Societies Registration Act XXI of 1860 with Govt. of NCT Delhi with the following aims and objectives :-
Aims and Objectives
To promote ancient & modern knowledge of Astrology, Palmistry, Numerology, Vastu, Lal Kitab, Spiritual & Psychic healing etc.
To provide ancient & modern education & knowledge of Astrology, Palmistry, Numerology, Vastu, Lal Kitab, Spiritual & Psychic healing etc
To organise prevailing ancient & modern learnings of Astrology, Palmistry, Numerology, Vastu etc. so as to make it comprehensive for people and for the extension of these learnings
To motivate the society for adopting positive ways of life and be affirmative in day to day routine work
To publish related magazines, periodicals and other publications from time to time. To help the poor, handicapped, orphans / old-aged, disadvantaged and mentally retarded persons.
ABOUT THE CHAIRMAN
ASSOCIATION OF HOLISTIC, SPIRITUAL & ASTROLOGICAL SCIENCES
Sh.O.P.Verma has been in the field of Astrology & Palmistry for the last 46 years, as a student, teacher and practitioner. He started the study of palmistry under the able guidance of celebrated Palmist of Delhi Late Sh.Pratap Singh Chauhan of Dariba Kalan. Subsequently he studied astrology under the guidance of Late Sh. Manik Chand Jain of Kamla Nagar, Delhi. Sh.Verma is an engineer by profession & due to his brain being after the scientific quest behind the things , he was never satisfied with the existing state of the things in astrology and palmistry. So after studying traditional astrology, he went after the study of Krishnamurthi Padhati and then to western astrology.
Sh.Verma has always been ready to share his learnings with others .It is his passion to write something of which people are ignorant & this reflects in his books He has written several books on Astrology & Palmistry
Books written by Prof. O. P. Verma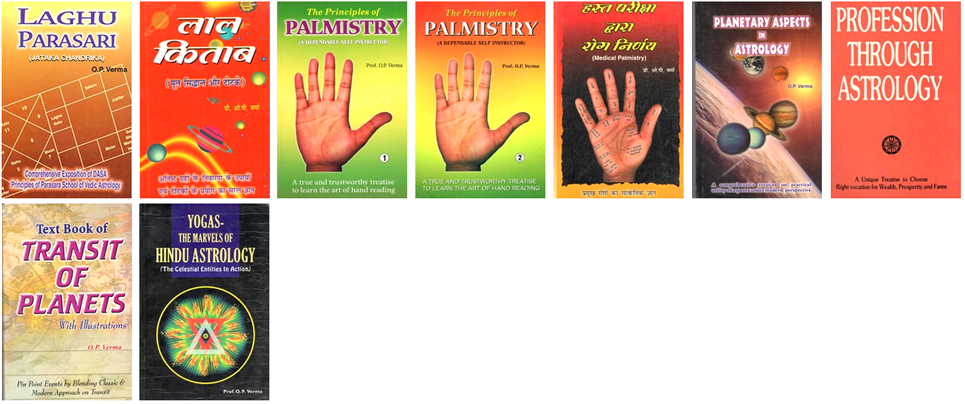 Text Book of Transit – This book is about interpretation of transits, both Hindu & Western systems have been discussed along with retrogression like other important aspects of astrology.
Planetary Aspects in Astrology deals with method of interpretation of aspects, Hindu as well as Western ; has been highly acknowledged by readers and practitioners.
Laghu Parashari is perhaps the best translation and interpretation of dasa interpretation rules till date.
Yogas: The Marvels of Hindu Astrology "A" rated book on yogas by astroamerica.com.
Secrets of Vimshottari Dasa shows the very bases of Vimshottari Dasa and the basics to be considered while interpreting a dasa.
A Glimpse of Kerala Astrology is an enlightening translation of three Kerala Astrology classics
The Principles of Palmistry (2 volumes) is valued as best treatise on Palmistry by erudite practioners till date.
Disease Imprints on the Palm is an exclusive depiction of estimation of diseases by looking at the palm.
Hast Pariksha Dwara Rog Nirnaya (Hindi) is Hindi version of above at 8.
Hast Rekha Gyan (Hindi) - is a welcomed exposition of Palmistry in Hindi language.
Sh.O.P.Verma is also a practitioner in Theta Healing (a healing modality propounded by THINK, Idaho, USA).He is also chairman of Association of Holistic Spiritual & Astrological Science, AHSAS functioning at JVSD Girls Senior Secondary School, D-2 Link Road, Opp. Hanuman Mandir, Near Jhandewalan Metro Station, Karol Bagh New Delhi New Delhi - 110005 - Delhi - INDIA .AHSAS conducts courses in Astrology, Palmistry, Vastu, Numerology, Tarot, Lal Kitab & spiritual healing.
FACULTY
The faculty comprises of eminent, experienced, practicing and renowned scholars & Astrologers as under :-
Prof. O. P. Verma (Chairman): Manas Gaurav, Jyotish Vachaspati, Samudrik Kovid, Astrologer, Palmist, Tarot Reader, Guide to Researchers in Astrology & Palmistry, Practitioner in Theta Healing (THINK, Idaho, USA), Author of many enlightening books on Astrology, Palmistry, Medical Palmistry, Lal Kitab, etc. He has conducted many researches in Astrology & Palmistry and contributed many paper in astrological magazines. He is an engineer by profession & has been in the field of Astrology, Palmistry etc. as student, practitioner & teacher for the last 46 years.
Dr. (Mrs) Uma Tewari (Vice Chairman): B.Sc., MBBS,; Jyotish Kovid, Jyotish Visharad, Lal Kitab Visharad, Theta Healing Practitioner (Idaho, USA), She is also fluent in Western Astrology, Medical Astrology. Retd. Chief Medical Officer, Health Department, Govt.of Delhi. She teaches Medical Astrology.
Smt. Suman Bharija: GNM, Jyotish Kovid, Jyotish Visharad, Vastu Vid, Numerologist, Tarot Reader, Lal Kitab Visharad, Theta Healing Practitioner (Idaho, USA), She also expertises in Remedial Measures, Western Astrology & Medical Astrology. She has contributed several papers in astrological magazines. She teaches General Predictions, Predictive Techniques and Tarot.
Er. Mohan Pahujani : (B.E. Mech, D.B.M.), Jyotish Acharya (BVM); Theta Healing Instructor (THINK, Idaho, USA); done various advance courses in theta healing; is a Mech. Engr. with more than 40 years experience in Govt. and MNC. An instructor in various spiritual modalities; teaches astrology and allied subjects at AHSAS. A senior consultant in astrology, theta healing and allied subjects.
Devi Saran Saini (M.Com.); Qualified Chartered Accountant; Jyotish Vigya; Jyotish Ratan; Adv. Dip. in Astrology; Certi. & Dip. in Palmistry; Lal Kitab expert; 20 years teaching experience.
Shri Hitender Kumar ( B.Com.) Jyotish Kovid, Jyotish Visharad, Lal Kitab Visharad, Theta Healing Practitioner (Idaho, USA), He is also an expert in K.P. Astrology, Nadi Astrology, Cuspal Inter-link Theory, Remedial Measures; He teaches Astronomy, Mathematical Astrology, Vimshottari Dasha, Predictive Astrology. He is compiler of 25 years Advance Ephemeris & Panchanga/Jantri.
Satish Arora (M.Sc.- Maths)- Retd. DCP (Home Ministry); teaches Vastu and Numerology.
Office Bearers